Please join us in our mission to collectively preserve the history and engage the future of Mississippi's Maritime and Shipbuilding heritage!
Please sup­port us as we take our dream to real­i­ty this year!
Our activ­i­ty cen­ter is open offer­ing learn­ing ses­sions, lec­tures and more.
Our Maritime Activity Center is in constant Seafaring Action!
Our Cat Boat, US Coast Guard (Singing Riv­er Island Sta­tion) donates key team mem­bers to help us ren­o­vate our Cat Boat!
Luke Green, BM1 USCG, leads the ren­o­va­tion! Sher­win-Williams donat­ed the paint sup­plies =$1000!
We thank both the Coast Guard and Sher­win-Williams for their com­mu­ni­ty mar­itime spirit!
NOAA

Ship "

OKEONOS

Explorer" (home port Newport,
RI

) is docked in Pascagoula for ship repair work.

The entire Okeonos Explor­er crew is here at our Activ­i­ty Cen­ter for the entire week. The crew is using our facil­i­ties for impor­tant NOAA training.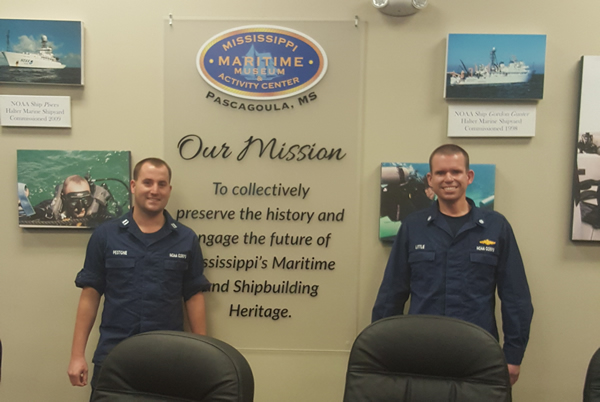 Our Annual Silent Auction was a huge success enjoyed by our maritime community!
A heart­felt THANK YOU to all our Silent Auc­tion donors, atten­dees and vol­un­teers par­tic­i­pat­ing in our most suc­cess­ful event ever! Your gen­er­ous dona­tions were over the top!
We are grate­ful for the Mis­sis­sip­pi Gulf Coast's pub­lic sup­port.
Our vision con­tin­ues to mate­ri­al­ize THANKS TO YOUR GENEROSITY!
"MARITIME/SEAFARING/SHIPBUILDING/HERITAGE/FUTURE
Click on each pho­to for a larg­er view