Please join us in our mission to collectively preserve the history and engage the future of Mississippi's Maritime and Shipbuilding heritage!
Please sup­port us as we take our dream to real­i­ty this year!
Our activ­i­ty cen­ter is open offer­ing learn­ing ses­sions, lec­tures and more.
Member of American Alliance of Museums
ZONTA

— Pascagoula's Annual Arts and Crafts Festival
DESIGNING
NEW
MARITIME
EXHIBITS
WITH
SPLIT
ROCK
STUDIOS

~~~~~~~~~~~~~
"

Summer Camp Session Team" July 18, 2021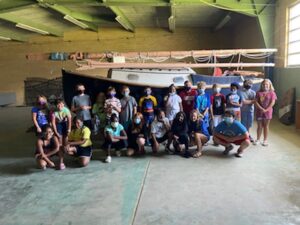 Pascagoula's Department of Recreation partnership.
Spe­cial Thanks to Cay­den & Collin- Eagle Scouts AND Owen and Pre­ston — Lead Scouts for help­ing our Sum­mer Campers learn to tie ship rop­ing knots!
Buffett, McAnally pen ode to coast with 'Gulf Coast Girl'

Read Blog
Visit our most resourceful Facebook page to find out the latest Museum info and learn more about ship history!
---
Do You Know Ships?
This details the types of ships that are known by most locals in the cities list­ed in Jack­son Coun­ty, Mis­sis­sip­pi. Below are some ship clas­si­fi­ca­tions focus­es of the Mis­sis­sip­pi Mar­itime Muse­um's (MMM) exhibits, lec­tures, media pro­mo­tions and the like. A long line of boats, ships, schooners, and oth­er marine ves­sels of vary­ing shapes and sizes have come from the Jack­son Coun­ty, Mis­sis­sip­pi area — and the list keeps grow­ing. These are are pri­mar­i­ly from Ingalls Shipbuilding.
Spru­ance Destroy­er (DD) Ticon­dero­ga (Aegis) Cruis­ers (CG) Arleigh Burke Destroy­er (DDG)
Wasp Class Amphibi­ous Assault Ships (LHD) San Anto­nio Class Amphibi­ous Trans­port Dock (LPD)
---