Celebrate National Maritime Day and National Safe Boating week!
Kick-OFF-Our museum celebrates two National Safe Boating week
proclamations with the City of Pascagoula and the City of Moss Point
Nation­al Safe Boat­ing Week Infor­ma­tion from Nation­al Weath­er Service
Boat­ing Safe­ty Class for Cer­ti­fi­ca­tion $40.00 Dis­count for Fam­i­lies
May 14th Sat­ur­day 9am-4pm Unit­ed States Coast Guard
National Maritime Day May 21, 2022 Saturday at

THE

POINT

9:30am-12pm
Seafaring Heritage Exhibits opening June 2022!
Our Renovated
CATBOAT

Makes her debut!!!…

Luke Green, BM1 USCG and Ron Basczkows­ki — Vol­un­teer, lead the ren­o­va­tion! Sher­win-Williams donat­ed the paint sup­plies =$1000!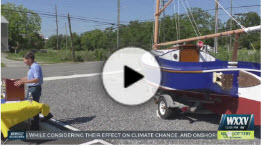 Antique wood­en cat­boat restored and added to the Mis­sis­sip­pi Mar­itime Museum
WLOX — News Now! Cat­boat helps bring life to local mar­itime museum
PASCAGOULA, Miss. (WLOX) — On Sat­ur­day, offi­cials gave boat­ing safe­ty cours­es at the Mis­sis­sip­pi Mar­itime Muse­um and Activ­i­ty Cen­ter. As the state eas­es its way into the sum­mer, more…
Click on each pho­to for a larg­er view